Classic birds of meadows are skylarks and meadow pipits – difficult to see in the meadow itself, but usually to be heard rising in song above Marden's meadows. They nest on the ground, where they also roost – so are vulnerable to ground predators and prone to disturbance by walkers – and rely on the plentiful supply of grassland insects to raise their young.
The plethora of flying insects pollinating meadow flowers also attract feeding swallows and martins and contribute to the so-called aerial plankton on which so many birds depend. High pressure elevates these to heights that swifts feed at, while more earthbound species like yellowhammers, dunnocks, common and lesser whitethroats, and sparrows find the necessary protein on which to feed their young.
Sharp-eyed kestrels search for voles and mice, and barn owls quarter the fields in the twilight to listen for them. Meadows are favourite hunting grounds for buzzards, surprisingly well-equipped with relatively small talons perfectly adapted for catching small mammals.
Prone to flooding, our wet meadows are perfect for rare yellow wagtails, lapwings and snipe.
The UK's farmland birds have declined drastically because of post-WWII agricultural changes. Fortunately, Marden still retains many farmland specialists like yellowhammers, reed buntings and linnets.
With increasing use of agri-environment schemes we are seeing populations stabilise and even increase. Systematic observations from local birdwatchers, through to long-term surveys and ringing studies help measure the success of these. [link to CS page eventually
Yellowhammers and linnets maintain good breeding populations and are helped by sympathetic management of hedgerows. Provision of winter seed crops on farms draws huge flocks – as many as a thousand strong – to the area in hard weather. Weedy areas left to seed are ideal for goldfinches and birch and alder trees around field corner ponds are where redpolls and siskins are found.
Lapwings nest in damp fields. Scarce tree sparrows and corn buntings are still to be seen and efforts are being made to bolster their populations.
Farmland owls and birds of prey breed in good numbers. Red kites are attracted to food provided for them from a local butcher, and buzzards are plentiful. Summer brings hobbies to hunt dragonflies and house martins. As well as the usual corvids, there is an expanding rookery and ravens now breed in the area.
Turtle doves are birds almost totally dependent on suitably managed farmland. Listed as 'globally vulnerable to extinction' by the IUCN, Kent now has most of the UK population, and the area around Marden is home to a significant part of it.
Ancient woodland still exists in Marden and many hedgerows are remnants of the original forest. In common with other parts of the UK changes in woodland management, and the impact of increasing numbers of deer, are reflected in the variety and number of species.
Our smallest, goldcrests, wrens and treecreepers are plentiful, having benefited from recent comparatively mild winters. Tit species, great, blue and long-tailed, maintain healthy populations but marsh tits, a species particularly affected by over-grazing of the understorey by deer are locally present in much smaller numbers.
Woodpeckers and nuthatch benefit from the older trees with plenty of scope for excavating nest holes, making good use of mature hedgerow oaks as well as the woodland. The now extremely scarce lesser-spotted woodpecker is seen occasionally in older decaying trees and orchards.
Spotted flycatchers, another very scarce species, are still regular summer visitors, as are nightingales where the special habitat structure they need is present.
Woodland predators – tawny owl and sparrowhawk – can be found in good numbers, and goshawks occasionally use the woodland for hunting.
Younger broadleaved woodland plantations attract seed-eating redpolls and siskins in the winter, and chiffchaffs, blackcaps, garden warblers and whitethroats for insects in the summer. Scrubby woodland edges provide the necessary breeding habitat and maintain a healthy local population of bullfinches as well.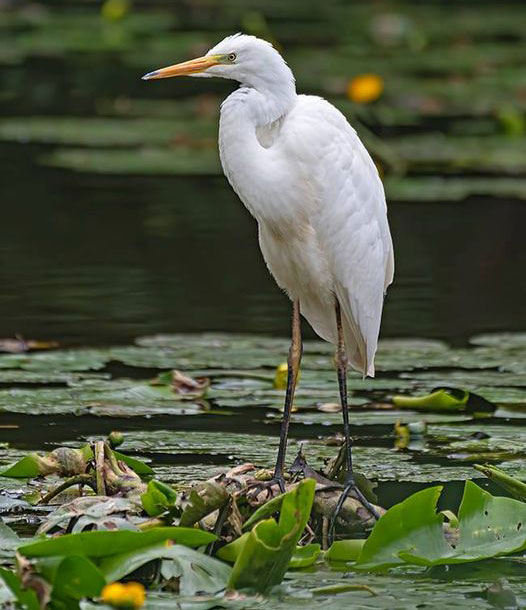 Marden is home to a notable variety of water birds, commensurate with the extensive water and wet meadows associated with being on a major flood plain.
The old village name 'Plover Field' was accorded to an area that still has breeding lapwings; snipe, woodcock and jack snipe are regularly encountered there, along with herons and egrets foraging for amphibians. Around the larger ponds and a newly excavated flood mitigation lake, migrating green and common sandpipers, ringed and little-ringed plovers and oystercatchers mingle with passing red- and greenshank. Grebes, gadwall, teal and Mandarin ducks breed here along with commoner ducks and waterfowl.
Scarce yellow and grey wagtails nest in their preferred damp meadows and along streams. Warblers, particularly reed and Cettis, are noisy bankside company for fishermen.
Flocks of house martins and swallows collect mud for nests, then hunt with swifts for the aerial insects above the water.
Passing kingfishers are commonplace on most streams and field-corner ponds.
A recent arrival, spreading steadily northward and making good use of our wet fields, is the great white egret, while migrating fish-eating ospreys and dragonfly-hunting hobbies frequently avail themselves of the water-based food supply.
Some species are readily drawn to gardens, and a variety are attracted by villagers who make them welcome with food and nesting habitat. Marden is gradually becoming well-stocked with nestboxes including for house martins and swifts. Robins, house sparrows, blackbirds and dunnocks are common visitors, and even turtle doves join them to feed when they first return from migration.
Nesting attempts are avidly monitored – and even filmed. Unfamiliar visitors are readily identified if posted on our Facebook page. In hard winter weather that Christmas visitor from Lapland might just be a fieldfare, redwing or brambling!
Well-stocked (with birds) gardens inevitably attract the local sparrowhawk – a sometimes painful lesson that a healthy environment needs a full complement of predators.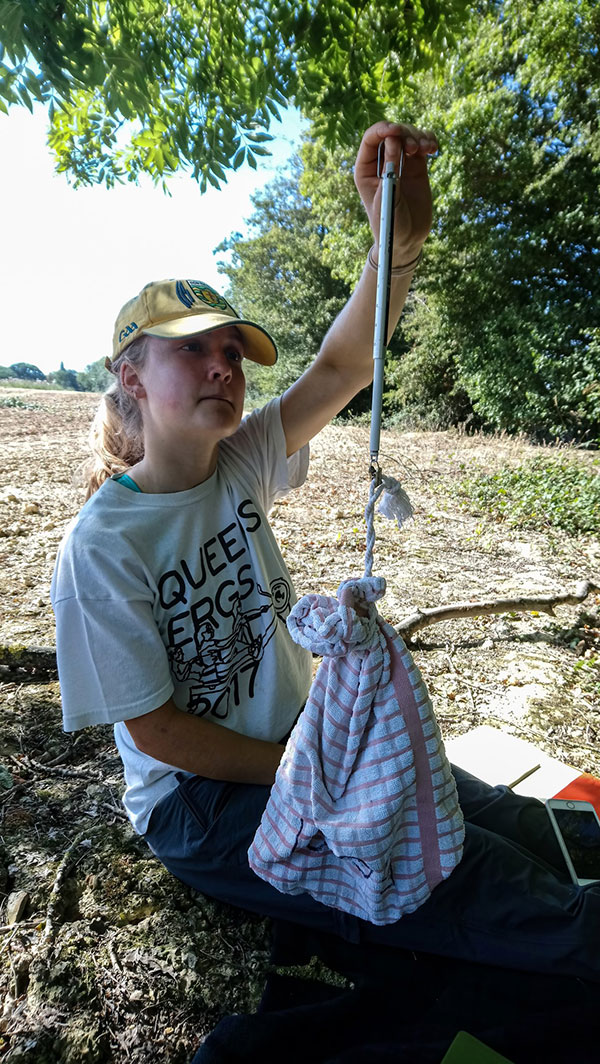 More than 6,000 birds have been ringed by volunteers in Marden: birds of prey, water birds, and nationally scarce wood and farmland species. Of particular note are significant numbers of yellowhammers and linnets ringed on local farms – in a recent year, around 80% of Kent's totals for both. For yellowhammers in particular, the total was 4% of all those ringed in England. Fitting tiny, lightweight metal rings requires patience, skill and years of practice. Such privileged, close contact with beautiful animals helps scientists gather important data about birds' health as well as providing information for conservation action. 
Fauna and Flora
We have generically grouped all our Fauna and Flora and know that these groupings aren't always perfectly correct, but this has been done to make it simple to get an idea of the variety of species we have in our parish. We do not expect this website to be used as an encyclopaedia. 
Birds
Our unique environment allows a great variety of species
Reptiles & Amphibians & Mammals
You'll be surprise what's we have in the area
Invertebrates
Great variety of moths, butterflies, dragonflies and more
Fungi
Without these Trees and Plants would not survive
Orchids & Flowers
Such a diverse amount of flowers in different environments
Trees and what comes with them
Trees create homes for many different elements of wildlife